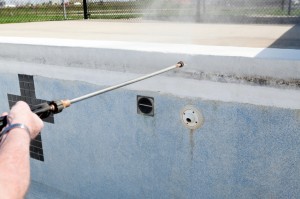 It's a typical Saturday afternoon and you're spending some quality time with your family in your pool. The sun is hot, the water is cool, and your pool tiles are cloudy.
What, what? My pool tiles are cloudy?
Overtime, the water in your pool naturally leaves hard water stains and calcium build-up along the edges and surfaces of your pool; including the tile and grout.
If you are seeing calcium build-up and hard water stains on your pool tile, you need a professional tile cleaning service from Down Under Pool Care.
As your pool care specialists here in Arizona, Down Under Pool Care are pros at cleaning those unsightly stains off your pool's tile. Starting at $200.00, a highly trained pool care technician will shot-blast your pool's tiles to remove the calcium build-up.
One of our pool care specialists will use a specific, natural application, that's specially designed for tile; which will effectively blast away stains and water marks. Tile clean services are a great alternative to more aggressive, chemical acid washes.
Make sure your Arizona pool is always looking its best. Take care of that ugly calcium build-up that has been accumulating on your tiles, with a professional tile clean service from Down Under Pool Care.
Whether you live in Queen Creek, Scottsdale, Tempe, Ahwatukee, Chandler, Gilbert,  Mesa, or Phoenix; Down Under Pool Care is your go-to source for all things pool care… Including tile clean services!
Tile Clean Services From Down Under Pool Care
(480) 671-1184