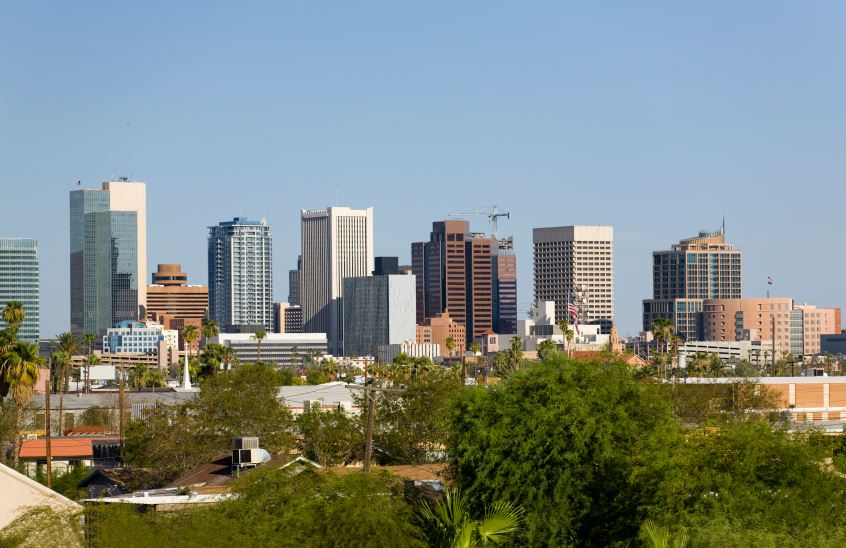 As the capital of Arizona; Phoenix is known for it's diverse population, it's excellent Mexican food, and of course, it's blistering hot summers. One way Phoenicians look to beat this sweltering summer heat is to relax in their cool swimming pools. But as a Phoenix pool owner, is there anything worse than heading out to your pool only to find it dirty and unfit to swim in?
At Down Under Pool Care, we take all the stress out of keeping a clean, well-kept, and properly functioning swimming pool with our affordable, quality, pool services in Phoenix, AZ.
Make sure your Phoenix pool is ready to use when you need it and enlist the services of Down Under Pool Care today!
Phoenix Pool Services
Down Under Pool Care gladly offers the following pool services in Phoenix:
Replacing Bulbs & Seals on Pool Lights
Backwash Repairs
Tree Trimming Around Pools
Hosing Down Decks
Salt Cell Cleanings
Pool Drains
Acid Washes
Replacement of Pumps
One-Time Clean Up of Pool
Sand Changes
Deck Repairs
Tile Cleanings
Chlorine Washes
Motor Repairs
Weekly Pool Services
Chemical Services
Inlet & Outlet PVC Piping Repair s
Cartridge Filter Cleans
DE Filter Cleans
What Phoenix Residents Are Saying About Our Pool Service 
Luke is awesome!  He worked tirelessly to fix my motor, and not up sell me to the newest product.  Saved me a fortune!  He shows up when he says he will and treats you more than fair when it comes to your pocketbook.  I'm a Realtor and I send ALL my business to him and they call me back to thank me.  Five stars all day long.
Julia F.
Phoenix, AZ
Spotlight On Phoenix
As the capital of Arizona, and the sixth largest city in the United States, some 1.5 million people call the city of Phoenix their home. With a bustling economy, popular parks, abundant recreational activities, and a huge variety of excellent and diverse restaurants, it's easy to see why so many people call Phoenix home. Residents love spending time at the Phoenix Zoo, cheering the Diamondbacks on at Chase Field, and catching a performance at Phoenix Symphony Hall. When Phoenicians aren't shopping, dining, or playing, you'll find them enjoying the comforts of their residential swimming pools.
We Proudly Serve The Following Phoenix Zip Codes: 85003, 85004, 85006, 85007, 85008, 85009, 85012, 85013, 85014, 85015, 85016, 85017, 85018, 85019, 85020, 85021, 85022, 85023, 85024, 85025, 85026, 85027, 85028, 85029, 85031, 85032, 85033, 85034, 85035, 85037, 85039, 85040, 85041, 85042, 85043, 85044, 85045, 85048, 85050, 85051, 85053, 85054, 85055, 85065, 85073, 85077, 85083, 85085, 85086, 85087, 85096, 85097, 85098, 85099.
Cities Surrounding Phoenix Where We Also Provide Pool Service
Down Under Pool Care is proud to serve the city of Phoenix, AZ. In addition to Phoenix, we also serve the cities of Scottsdale, Tempe, Mesa, Queen Creek, Ahwatukee, Chandler, and Gilbert.
If you have a swimming pool, and would like professional, quality, and affordable pool services, call Down Under Pool Care today. You'll be happy you did!
Call Today For Phoenix Pool Service!
(480) 671-1184