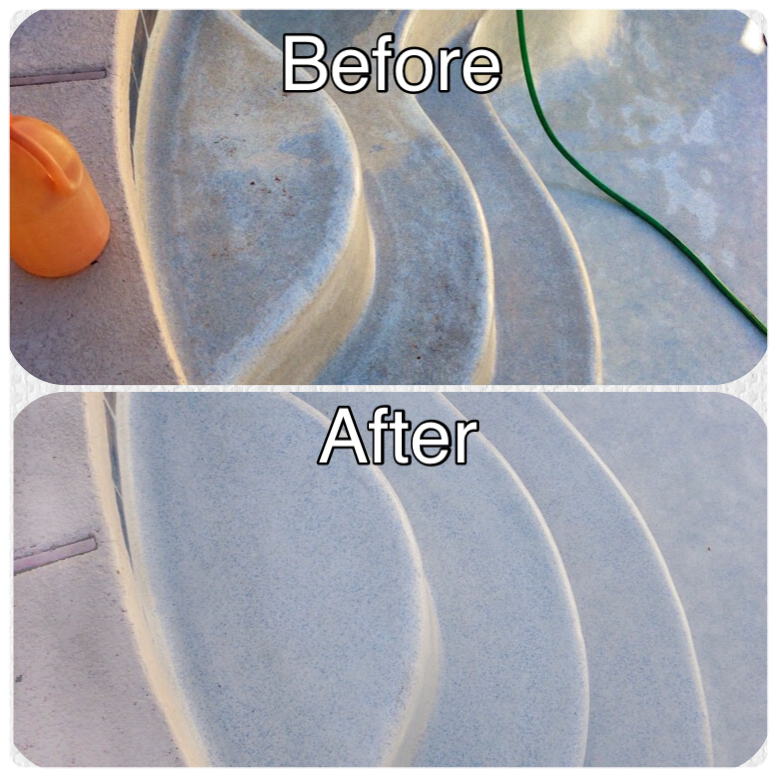 If you are an Arizona pool owner who is looking for an effective way to give your pool that "like new" appearance, then an acid wash service is what you're looking for. With an acid wash service, a Down Under Pool Care professional chemically strips a very small layer of plaster off the surface of your swimming pool. This technique exposes a fresh layer of plaster, leaving your pool looking like new. Think of it like a chemical peel, for your pool!Over time, the surfaces of your swimming pool become dull with dirt stains, mineral deposits, chlorine and chemical stains, algae, and simple wear and tear from using it year in and year out. An acid wash service removes these stains, leaving your pool glowing, bright, and beautiful.
Additionally, an acid wash service is beneficial if your pool is experiencing green, slimy, and swampy conditions. Algae that are growing in your pool can be a particularly serious problem; a problem that is challenging to eliminate on your own. When these algae become a problem in your pool, an acid wash service gets down into the pores of your pool's surface, where algae like to grow. An acid wash kills off the algae blooms, thus ensuring your pool is algae free!
If your swimming pool not it's shimmering, radiant self, give Down Under Pool Care a call. Our highly trained personnel will evaluate the condition of your pool, and recommend if an acid wash service is right for you. With a Down Under Pool Care acid wash service, we will scour and scrub the interior of your pool with acid, rinse the pool, and brush it again. This service is $150.00 and will leave your pool bright, glowing, and beautiful!
Whether you live in Tempe, Chandler, Gilbert, Ahwatukee, Mesa, Scottsdale or Phoenix; Down Under Pool Care is your go-to source for all things pool care… Including an acid wash!
Call Today For An Acid Wash Service!
(480) 671-1184