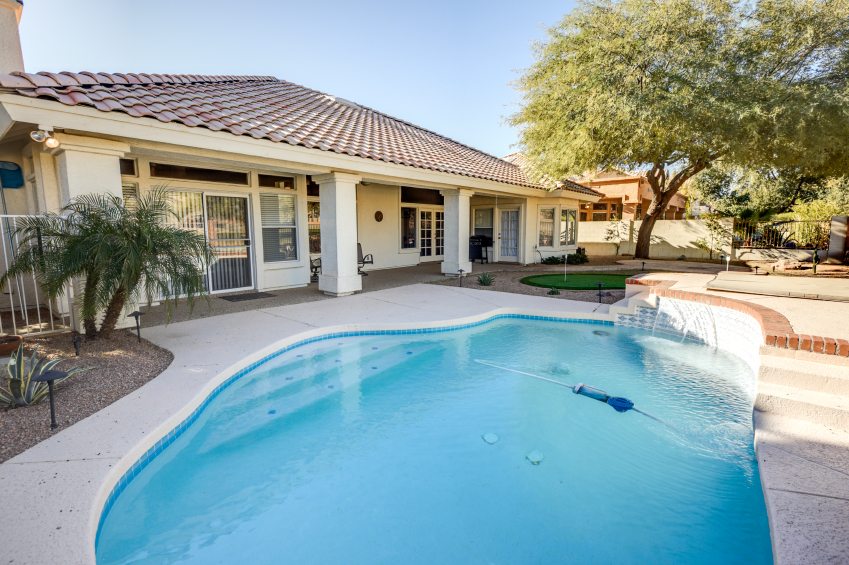 Gilbert, AZ residents know just how long and hot our summers can be. One of our favorite ways to cool off is by taking a dip in our nice cool swimming pools. There's nothing more refreshing! Additionally, there's nothing more frustrating than heading out to your pool to cool off, only to find it isn't quite up to par.
Whether your Gilbert pool is in need of a good cleaning, needs its filters cleaned, or needs its chemicals adjusted, Down Under Pool Care has got you covered.
Check out the pool service Down Under Pool Care offers in Gilbert:
Gilbert Pool Services
Weekly Pool Services
Twice Monthly Pool Services
Chemical Services
Pool Drains
Acid Washes
Tile Cleanings
Chlorine Washes
Deck Repairs
Motor Repairs
Inlet & Outlet PVC Piping Repairs
Cartridge Filter Cleans
DE Filter Cleans
Replacement of Pumps
Sand Changes
Replacing Bulb and Seal on Pool/Spa Lights
Backwash Repairs
Tree Trimming Around Pools
Hosing Down Decks
Salt Cell Cleaning
One-Time Clean Up of Pool
Spotlight On Gilbert
Gilbert, AZ is the largest town in Maricopa County, Arizona. With a population over 200,000, Gilbert could easily qualify for a city status. However, residents like being thought of as a little smaller and friendlier than what big city living usually entails. Coincidentally, this same way of thinking is one that Down Under Pool Care holds dear; "Big enough to deliver, yet small enough to care."
Not only are there plenty of jobs in Gilbert, AZ there are some amazing restaurants as well. Local residents love eating at Joe's Farm Grill, especially on their birthdays when they get a free meal. Gilbert real estate is some of the best the state of Arizona has to offer, and one of the reasons is because so many homes have beautiful backyard swimming pools.
Gilbert Zip Codes We Service: 85233, 85234, 85295, 85296, 85297, and 85298.
Cities Surrounding Gilbert We Also Provide Pool Service 
The town of Gilbert isn't the only place in the Valley in which Down Under Pool Care offers pool services. The nearby cities of Tempe, Mesa, Chandler, Phoenix, Ahwatukee, and Scottsdale all rely on Down Under Pool Care for all of their pool maintenance needs.
Down Under Pool Care is here for Gilbert pool owners with our professional, high quality, pool services. Make sure your Gilbert swimming pool is always ready to use when you need it by enlisting Down Under Pool Care today.
Call Now For Gilbert Pool Service!
(480) 671-1184