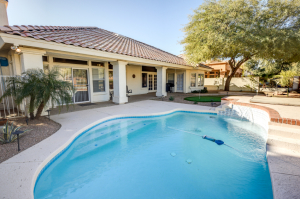 Owning a pool can feel very overwhelming at times. Your pool is an intricate working system that includes a pump, filter, vacuum, timer, pipes and levers among other things. Understanding how they all work can be very confusing.
If you are an Arizona pool owner, your pool is one of your biggest investments. You want to protect this investment, all while getting hours of enjoyment and relaxation for you and your family. In order to do this, you need to know how your pool works; all the ins and outs.
That is where the pool service professionals at Down Under Pool Care Come in. With our $85.00 pool orientation service, one of our highly trained pool experts will explain the workings of your pool pump, vacuum, filter, and timer.
After this pool orientation, you will have a detailed, more complete understanding of your pool, and your pool equipment– what everything does, and exactly what you need to do to maintain it! A pool orientation service is just what you need to take the worry and stress out of understanding the dynamics of your pool, so the only thing you have to worry about is enjoying it!
If you live in Scottsdale, Chandler, Ahwatukee, Mesa, Gilbert, Queen Creek,  Tempe, or Phoenix; Down Under Pool Care are the experts you want to call for a pool orientation service.
Down Under Pool Care Pool Orientation Service
(480) 671-1184