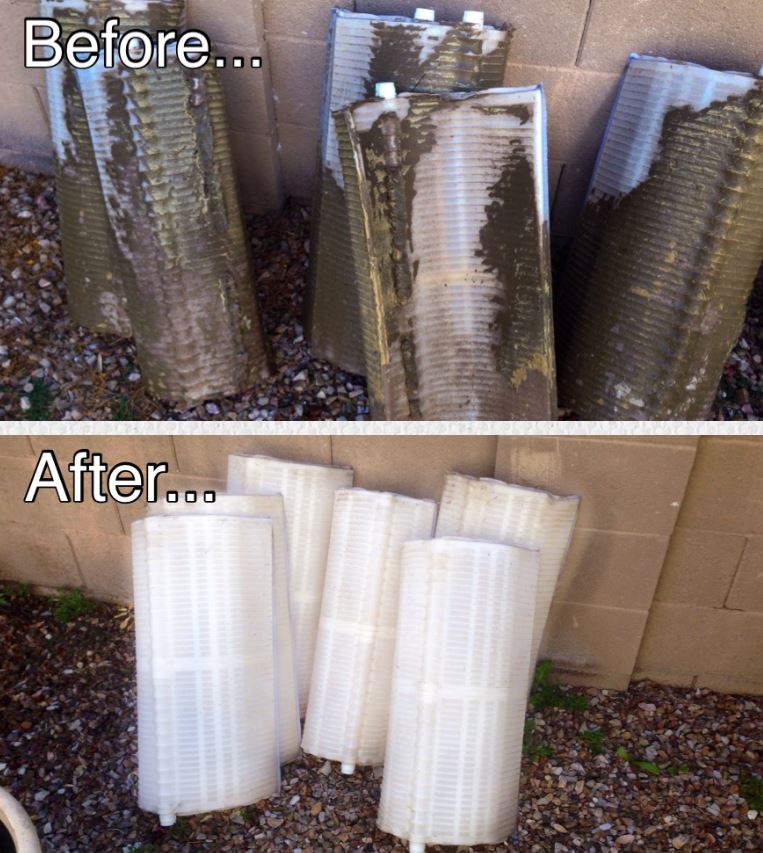 Does your pool water appear to be cloudy or just doesn't sparkle the way it usually does? If so, it may be time to have your filters cleaned. Most swimming pools here in Arizona have cartridge filters or DE (diatomaceous earth) filters. Over time, dirt, leaves, algae, debris, and even the bodies that swim in your pool contribute to clogging these filters. For Arizona pool owners, Down Under Pool Care specializes in cleaning and replacing your filters; your DE filters in particular.
One popular filter Arizona pool owners elect to use to keep their pools healthy and clean are DE filters. These DE filters use grids of diatomaceous earth to trap water-borne contaminants; straining out massive amounts of dirt, debris, algae, bacteria, and other contaminant particles. Inevitably, these grids will become clogged with these particles and they need to be cleaned.
A clogged DE filter can be disastrous to your pool and its equipment. As your pool water tries to circulate through your clogged filters, pressure builds. This pressure can damage your filters and even the motor on your pool pump. On top of damaging your pool equipment, having clogged DE filters means your pool will have poor circulation. This equates to dirty cloudy water, algae growth, and unhealthy swimming conditions.
Avoid these problems by demonstrating that your pool is functioning properly and has been well maintained with regular DE filter cleanings from Down Under Pool Care. Our DE filter service will extend the life of your filters and pump, keep your swimming pool clean, ensure you're in compliance with pool warranties, and even help you save money on your electric bill.
DE filter cleanings done by the pros at Down Under Pool Care will leave your pool healthy and ready to use whenever you need it. The DE filter service is $130.00 (plus parts and materials), and is an affordable value to Arizona pool owners. With this service, a highly trained Down Under Pool Care professional will disassemble your DE filter and grid assembly. We will clean and inspect the grids and manifold, then reassemble the grid assembly and filter. The filter will be pressure tested and charged with DE, and we will lube the circulation system. Sometimes new grids are needed, and we will replace those when necessary as well.
Whether you live in Phoenix, Tempe, Gilbert, Queen Creek, Mesa, Scottsdale, Ahwatukee or Chandler; Down Under Pool Care is your go-to source for DE filter cleanings, inspections, and replacements!
Call Today For DE Filter Inspections, Cleanings & Replacements!
(480) 671-1184