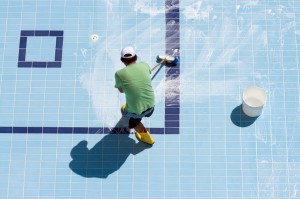 Are you looking for an effective way to brighten up the appearance of your Arizona pool, all while eliminating some of the harmful contaminants like hidden algae spores?
Is your pool suffering from an algae problem?
Does your pool have unsightly dirt and stains that are proving difficult to remove?
If you answered yes to any of the above questions, then a chlorine wash service from Down Under Pool Care is what your pool needs!
Over time, the surfaces of your swimming pool become dull. Algae, stains, mineral deposits, dirt, chemical stains, and the simple wear and tear that comes with using a pool year in and year out are all contributors. A chlorine wash service is extremely effective at removing algae and these other various stains; leaving your pool glowing and radiant.
With a chlorine wash service, a Down Under Pool Care professional will drain your swimming pool then apply a large amount of full-strength liquid chlorine to the surface of your pool. With a pool brush, your pool will be scrubbed from top to bottom with chlorine; getting into all those nooks and crannies where algae like to grow. The liquid chlorine works it's disinfecting magic; as it gets down deep into the pores of your pool, killing any contaminates and hidden algae spores that are embedded within.
At Down Under Pool Care, we don't stop with one chlorine scrubbing! After we have scoured and scrubbed the interior of pool with chlorine once, we'll rinse the pool and brush it again.
A chlorine wash service from Down Under Pool Care, runs $150.00, and will leave your Arizona swimming pool shimmering, bright, and beautiful.
Whether you live in Tempe, Chandler, Gilbert, Queen Creek, Mesa, Scottsdale, Ahwatukee or Phoenix; Down Under Pool Care is your go-to source for all things pool care… Including a chlorine wash service!
Call Today For An Chlorine Wash Service!
(480) 671-1184