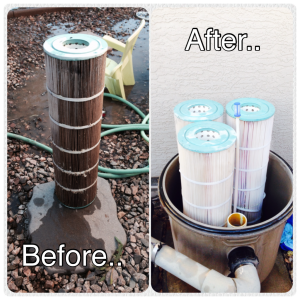 Is your pool water beginning to look a little cloudy? Is it not the sparkling, glistening blue you're used to? It may mean your pool's cartridge filters are clogged and need to be cleaned or replaced. You see, over time these cartridge filters become clogged with dust, dirt, debris, oil, algae, leaves, sunscreen, and other various contaminants. It's all an expected problem that accompanies pool ownership; a problem that can be quickly remedied with one call to Down Under Pool Care.
Your pool's cartridge filters work as a line of defense; to capture any unwanted and unhealthy particles that would otherwise make for unpleasant and even harmful swimming conditions. When these filters get full or clogged, it can be hazardous to your pool and your pool equipment.
Clogged cartridge filters that are not serviced will not only lead to dirty pool water, it will also increase the back pressure on your pool's filter system. When the pressure builds to 20 psi or higher, a few things can happen. The prolonged pressure can crush your cartridge filters, requiring you to replace them. Additionally, the prolonged pressure puts extra strain on your pool pump motor; extra strain that can cause your pump to burn out as well. Regular cartridge filter cleanings extend the life of your pool and its equipment.
Down Under Pool Care recommends that your have your pool's cartridge filters cleaned every three months; or when your pool's pressure reaches 20 psi or higher. These regular cleanings help ensure your pool has better circulation; leading to a cleaner healthier pool.
As an Arizona pool owner, you must do what you can to protect one of your biggest investments. Protecting this investment means keeping your pool in proper working condition with regularly scheduled cartridge filter cleaning services from Down Under Pool Care. We offer this service for $85.00 (plus possible parts and materials). Have a highly trained Down Under Pool Care serviceman disassemble your cartridge filter, clean and inspect the cartridge(s), and replace any parts that are needed.
Whether you live in Scottsdale, Tempe, Mesa, Chandler, Gilbert, Queen Creek,  Ahwatukee or Phoenix; Down Under Pool Care is who you call for cartridge filter cleaning services!
Call Today For Cartridge Filter Cleaning Services!
(480) 671-1184