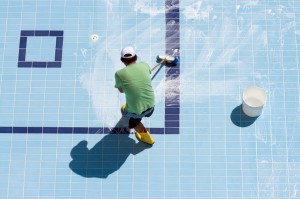 One of the most fundamental steps to proper pool maintenance is brushing your pool walls. It is also one of the most overlooked steps as well. Arizona pool owners are quick to skim debris off their pool's surface and empty the skimmer baskets, but just how often are your pool walls getting brushed?
Brushing your pool walls on a regular basis enhances the cleanliness of your pool by reducing stains and keeping algae at bay. Algae, slime, dirt, and other debris naturally accumulate on your pool's steps, walls, benches, and even on the bottom; but regular pool brushings will improve and even prevent these dirty or swamp-like conditions from occurring.
Trying to brush your swimming pool yourself can be quite a daunting task. That's where the pool service professionals at Down Under Pool Care come in. Starting at $100.00, a Down Under Pool Care professional will brush all sides of your pool, backwash, and then repeat the process for seven days! This process allows your pool pump and filters to do their magic; removing these pool contaminants that are loosened up from the brushing.
This professional pool brushing service will help clear up any algae problems your pool may be experiencing, and prevent staining. A good brushing is also preventative; removing the algae spores adhering to your pool walls, just waiting to bloom.
Keep your Arizona pool looking its best all year round, with a professional pool brushing service performed by Down Under Pool Care!
*** Note: pool brushings are also included in our weekly and twice per month cleaning and chemical service package.
Whether you live in Chandler, Mesa, Gilbert, Queen Creek, Scottsdale, Tempe, Ahwatukee,  or Phoenix; Down Under Pool Care is your go-to source for all things pool care… Including pool brushing services!
Pool Brushing Services From Down Under Pool Care
(480) 671-1184