Ask The Experts: Pool Care Q & A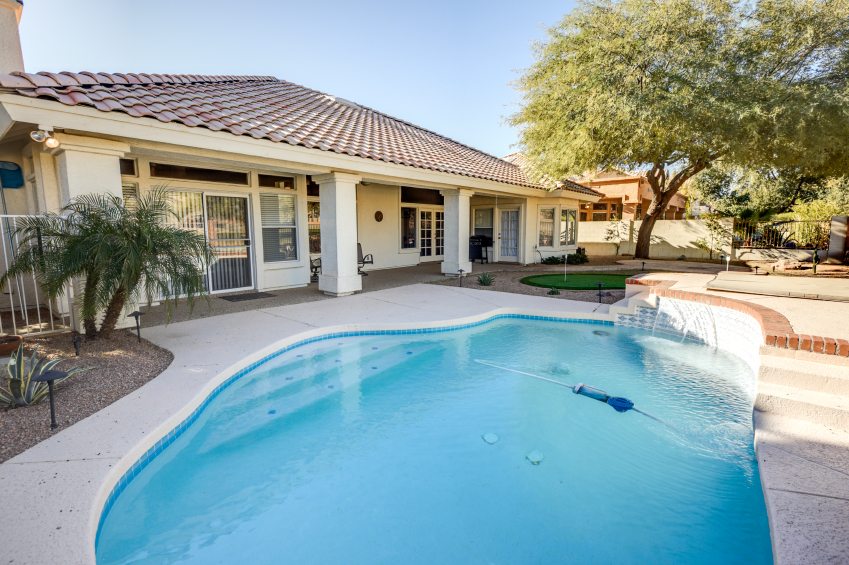 Posted by anthony In Category : Pool Care,Pool MaintenanceIn tag : Acid Wash,Arizona,DIY test kits,Down Under Pool Care,pool change,pool filter,Q & A,Swimming pool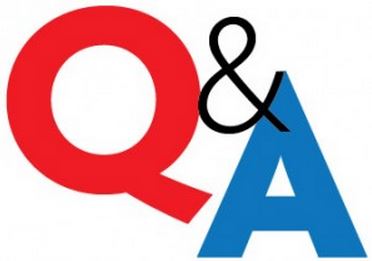 As your go-to source for all things pool care here in the Valley, pool owners frequently seek the advice of our pool service professionals.
Here are some of the most frequently asked questions we encounter at Down Under Pool Care; and our expert answers to these common questions:
Ask The Experts: Pool Care Q & A 
Q:  What causes cloudy pool water? 
A:  Cloudy pool water is one of the most common and one of the most frustrating issues that can arise when you own a pool. It seems like you go to bed one night with sparkling blue waters, only to awake to cloudy water. There are a variety of things that can cause cloudy pool water. Algae, leaves, dirt, debris, rain, and even pollen are some of the most common contributors. Another big and often overlooked contributor is the number of people you have swimming in your pool. Make-up, sweat, body oils, deodorant, hair gel, sunscreen are all significant causes to cloudy pool water.
Weekly cleaning and chemical services is your best solution to combat cloudy pool water.
Q:  When should I replace my pool filter cartridges? 
A:  This is an excellent and frequently asked question, because there really isn't a set termination point given by manufactures when it comes to the life of your pool filter cartridges. While they need to be cleaned about every three months, or when your pool's pressure reaches 20 psi or higher; cartridge filters can actually last several years with proper care. Look for flattened pleats, unraveling, frays, holes, tears, busted cartridge bands, broken end-caps, a consistently dirty pool, and no change in psi after a cleaning as signs that it is time to replace your filter cartridges.
Learn more about when to replace your pool filter cartridges.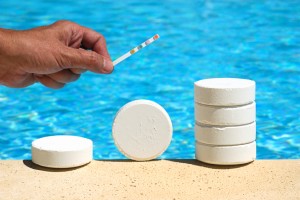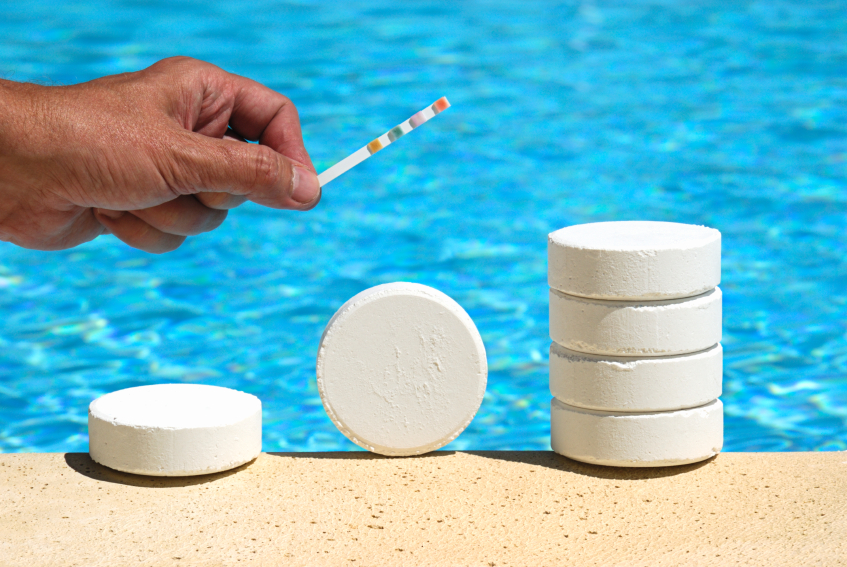 Q:  How accurate are DIY test kits? 
A:  Many pool owners in Arizona opt to personally test the pH, alkalinity, and chemical levels of their pools with DIY test kits. There's one problem with this; many DIY pool water test kits can be inaccurate. This is especially true with some of the cheaper ones you pick up at local hardware stores. Over time, and additional exposure to the Arizona heat and sun, can decrease their reliability and accuracy. Stick with Down Under Pool Care. We use the very best testers, and frequently cycle through them since we perform so many services every day. We're not using old, inaccurate testers that have been exposed to the elements.
Q:  How can I make more pool more energy efficient?
A:   Make your pool more energy efficient; saving you money in the long run, by installing some of the following: an energy efficient pool pump, timers on your pool heater and pump, solar pool cover, LED or solar powered lights. Keeping up with regular pool maintenance also helps a lot.
Q:  How do I know when I need an acid wash? 
A:  The main scenario in which we would recommend an acid wash service is if your pool is in need of a dramatic aesthetic improvement. Dirt stains, mineral stains and deposits, algae, chlorine and chemical stains, and simple wear and tear will make your pool look ugly and worn overtime. An acid wash is like a chemical peel for your pool surfaces. An acid wash or chlorine wash service is also effective for treating serious algae problems.
Q:  When does my pool need to be drained?
A:  Down Under Pool Care recommends draining and refilling your pool every 2-4 years here in Arizona; or as pool conditions, TDS levels and repairs dictate.
Learn more about our pool drain service.
Q:  Is it okay to let my dog swim in my pool? 
A:  Absolutely… Under a few conditions. First, make sure your dog is supervised while it is swimming. Some 5,000 dogs drown each year in swimming pools. Second, you will need to have your chemicals checked and administered more often; and you'll need to have your filters cleaned more frequently as well. All that extra hair, dirt, debris, oil, and fecal matter will raise your pH levels, and dirty up your water. If your pool is not properly chemically treated and adjusted, you increase your chances of water-borne sickness.
Learn more about dogs and swimming pools.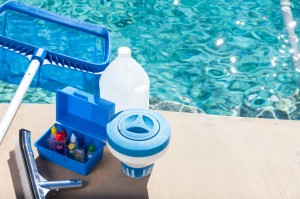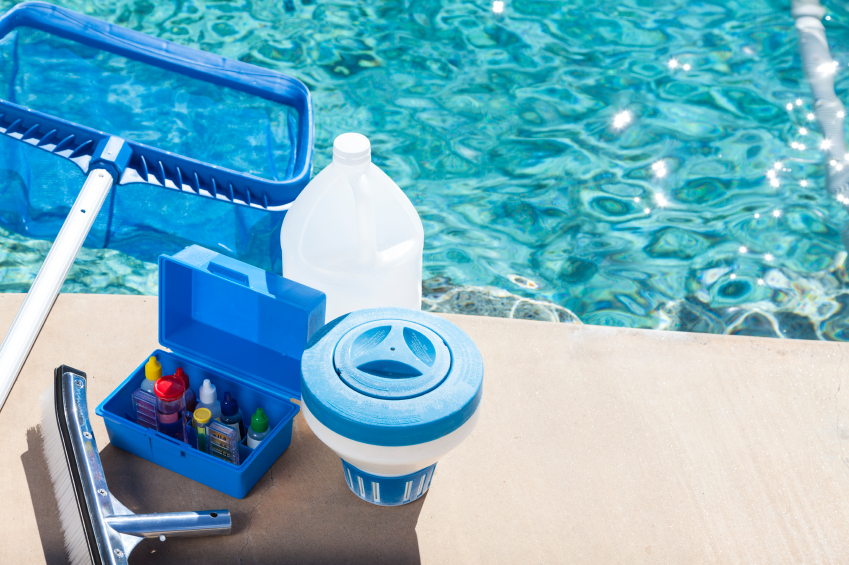 Q:  Why should I get pool service from Down Under Pool Care? 
A:  Great question! Many Arizona pool owners are seeing the widespread benefits of turning over their pool maintenance to the service professionals at Down Under Pool Care. Doing so can save you valuable time… Six hours a month! That's time you can spend in you pool with your family, instead of cleaning and treating it.
Professional pool services will also save you money in the long run. Maintenance is always cheaper than repairs; clogged filters, unbalanced and dirty pool water, and algae problems can all damage your pool and its equipment.
Another reason you should elect for professional pool service, is that it reduces chemical storage risks. This is a huge concern! You definitely don't want your kids, or the neighborhood kids getting a hold of these chemicals. Did you know these chemicals can be flammable too? You don't want to be storing them near your home.
Take all the worry and stress out of pool care and maintenance with professional services from Down Under Pool Care. In addition to saving you time and money, it's just easier than doing it yourself!
More Questions? Ask Our Experts:
(480) 671-1184